"Long-term conservation outcomes in rural communities need to be informed by community values…We are making great progress on all sides towards understanding what our shared values are and how to build prosperity together."  – Phil Hough
Informed Decision-Making
Years ago scientists recognized the value of the Scotchman Peaks for wildlife connectivity in the larger Cabinet Purcell Mountain Corridor region. FSPW has built on the base of available data to support informed decision-making into the future. It has a citizen-science program designed to collect data for the Forest Service while also giving local residents the opportunity to give back to the landscape they care about. Residents are currently using the Scotchman Peaks specific weed guide to support local weed surveys.
Also, FSPW is an active participant in the Cabinet Purcell Mountain Partnership , which sets conservation priorities for the broader region within which the Scotchman Peaks sits. The partnership benefits from the local knowledge that FSPW bring to the table while Hough and other FSPW staff benefit from learning from and connecting with agency partners, researchers and other NGOs that are actively working in the broader region on shared goals.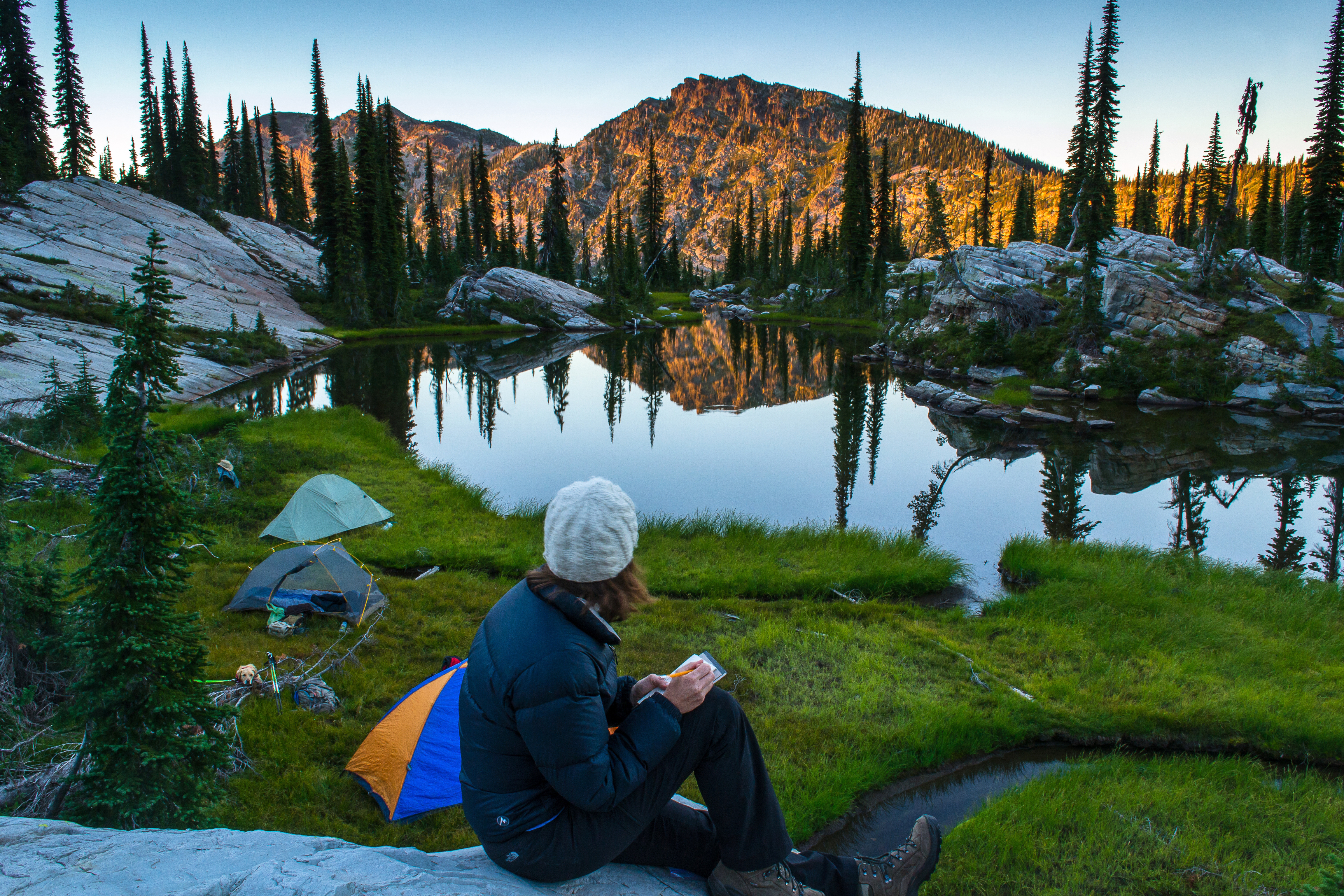 An artist looks for inspiration above Horseshoe Lake in the Scotchman Peaks Roadless Area during the Friends of the Scotchman Peaks Wilderness' annual Extreme Plein Air event. Photo: Aaron Theisen
Community Values
For the last several years, FSPW has partnered with businesses, local leaders, and agencies to discuss the region's economy and the role natural resources can and should play in building the region's prosperity. Deep community engagement and a commitment to not shy away from tough issues have built a foundation of trust for FSPW. It has secured support for designating Scotchman Peaks as Wilderness from diverse entities such as the cities of Sandpoint and Ponderay, Idaho Forest Group, and the Libby Rod and Gun Club.
"Long-term conservation outcomes in rural communities need to be informed by community values," says Hough. "We are making great progress on all sides towards understanding what our shared values are and how to build prosperity together." At the end of the day, Hough is optimistic that this approach will lead to a Wilderness designation for the Scotchman Peaks some day. Until then, he appreciates the opportunity his organization has been given to advance the community dialog about the role of conservation in rural economies.
Wilburforce Foundation supports the work of FSPW because it appreciates that long-term stewardship comes from organizations that are capable of tackling tough issues. The Foundation values that FSPW is working with artists, agencies, the local timber company, and the local chambers of commerce to not only talk about Wilderness but to talk about jobs and long-term economic prosperity. Durable conservation outcomes aren't possible if communities don't succeed alongside them.