"The work we do is an art, not a science. The art of conservation comes from learning and practicing a craft."
"My job is to play the very best hand with the cards I am dealt," Johnson says. "In Idaho, you can get pretty bad cards." Idaho Conservation League's strategies included supporting the development of Conservation Voters for Idaho, which works to elect individuals who vote with the environment in mind. This organization has, over time, increased the chances that Johnson and others would be dealt better cards with which to achieve conservation outcomes for Idaho.
Looking Back and Ahead
"Everything I have the honor to do, I have inherited from somebody else. I think about that a lot," reflects Johnson. "This work is never about the moment, and never about us. Our goal is to help people relate to it all. Idaho is a great story. The place speaks for itself. But sometimes we have to give voice to it."
In August 2015, Johnson was one of eight individuals who joined President Obama in the Oval Office for the signing of the bill that created the Boulder-White Clouds Wilderness in the Salmon-Selway Ecosystem. While waiting to go into the Oval Office, Johnson recalls "Interior Secretary Sally Jewel saying to [him] 'I want to hear the Idaho story.' She shared that this was the second Idaho wilderness bill that President Obama would sign, and she wanted to know how that happens in a conservative place like Idaho."
Secretary Jewell's comment has given Johnson more reason to reflect. "At the Idaho Conservation League, we are figuring out how to make Idahoan's core values actionable. Conservation can complement Idaho's conservative values as long as we aren't trying to overthrow them. You have to find common ground."
Wilburforce Foundation supports thoughtful and transformational leadership in addition to organizations that are working to conserve lands, water, and wildlife. It recognized Rick Johnson with its Conservation Leadership Award in 2010. Wilburforce is proud to have supported Idaho Conservation League's work across Idaho since 2000. In December 2015, the City Club of Boise awarded the Stimpson Award for Civic Engagement to Rick and Rep. Mike Simpson for their collaborative work to protect the Boulder-White Clouds.
Giving Voice to Place
Johnson was at Targhee Music Camp in 2015 when he got word that the 30-plus year effort to designate the Boulder-White Clouds as wilderness had finally succeeded. That night before flying back to Washington for the bill signing he changed a couple of places in a verse to Walkin' Jim Stoltz's revered song I'm Going Back to Idaho, and performed it. Johnson's addition to Stoltz's song goes like this:
There's a place I know in the White Cloud Range
Boulder Lakes, now it never will change
A little bit of magic all locked up in snow
That's why I'm crazy about Idaho.
"I've been focusing on appreciating the experiences this work is bringing to me," concludes Johnson. "When I stood behind President Obama's desk in the Oval Office, I took the time to absorb the room knowing I would likely never be there again. I remember the art."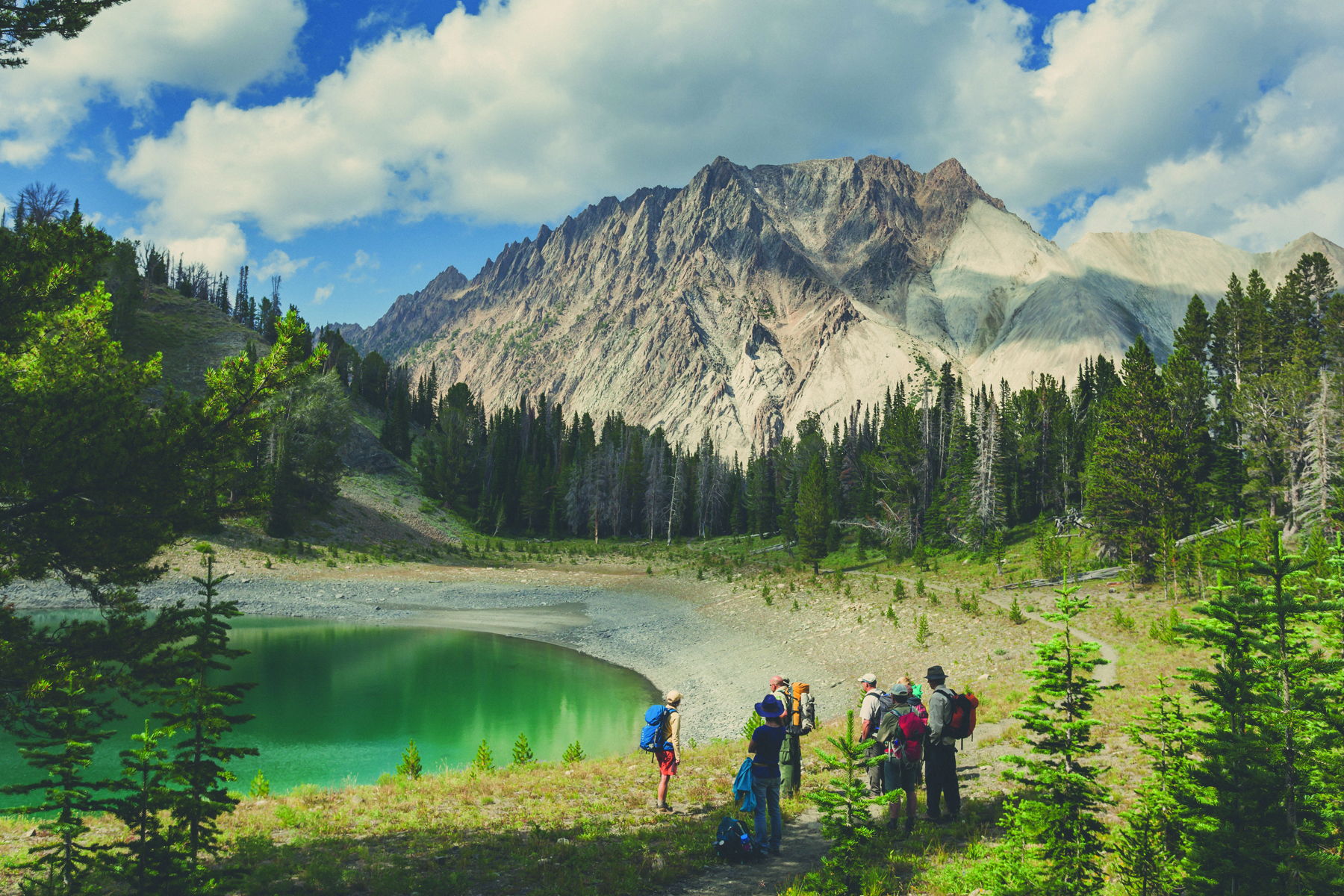 Photo: Peter Lovera, courtesy Idaho Conservation League