In the wildlife-rich 18-million-acre Crown of the Continent Ecosystem, vehicle-wildlife crashes are frequent.  These collisions are often lethal to wildlife, usually large ungulates such as deer, elk or bighorn sheep and sometimes to humans.  The major US and Canadian highways crossing the Crown Rockies connect residents to jobs and services, support commerce, and provide travel corridors for those who are moving through or across the broader region. These roads disrupt landscape connectivity and wildlife populations that are unwilling or unable to cross-large roads.  The wildlife that attempt to cross the highways risk mortality and injury and pose a significant safety and health concern to the growing human population in the region. The Miistakis Institute, based in Calgary, Canada thoughtfully embraced this issue by providing reliable data to enable government decision-makers to fund mitigation solutions aimed at increasing wildlife and human safety.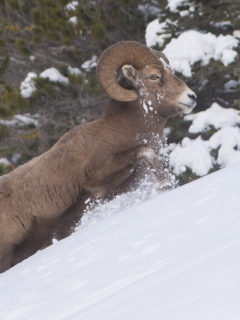 Bighorn Sheep. Photo courtesy of Stephen Legault.
"By the early 2000s, we understood that Highway 3 in the Canadian Rockies was a fracture-zone for large mammals and that wildlife-vehicle collisions were frequently occurring," says Tracy Lee, a senior project manager at Miistakis. With the support of Wilburforce Foundation, Miistakis joined other organizations in the region, launching the Road Watch in the Pass program in 2004. The Road Watch partners had two goals: to collect data to determine where wildlife-vehicle collisions were regularly occurring and with the highest frequency. Secondly, the Road Watch partners hoped to foster a community of concerned citizens to take action on Highway 3 transportation safety issues. Miistakis Institute staff developed a citizen science program to address both goals which included collecting the much-needed data on where wildlife are commonly crossing, involved in collisions, or moving adjacent to the highway and, building a local community supportive of safe passage for wildlife and people across Highway 3.
 "Locals had a good idea where the crashes were happening, but we didn't have any hard data" says Tracy Lee, a senior project manager at Miistakis.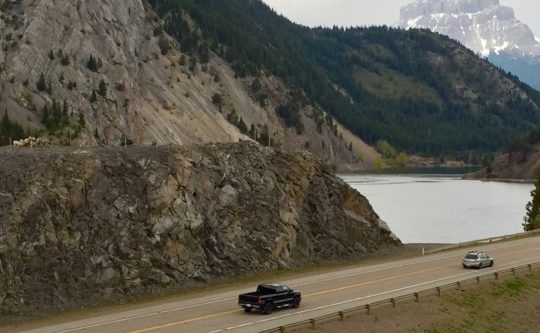 Photo by Wendy Francis. Up to 9,000 vehicles travel daily along Highway 3, which bisects a vital wildlife corridor. Here at Crowsnest Lake in Alberta, bighorn sheep, seen on the ledge (top left) are preparing to cross. The fencing is to guide them safely to the existing underpass.
Over a five-year period, more than 70 volunteer residents gathered large animal crossing patterns, and wildlife-vehicle collisions data aiming to reduce risk to motorists, and better understand the areas wildlife connectivity. Volunteers noted copious wildlife observations along Highway 3 and painstakingly entered them into an interactive web-based mapping tool. In addition to generating a large dataset of over 5,000 observations, Road Watch data has been used in a number of land use planning processes and by local citizens to build support for protecting a wildlife movement corridor across Highway 3.  Other groups seeking safe highway passage for wildlife and people have used the Road Watch mapping tool in Idaho and British Columbia. After three years of data collection, Miistakis Institute staff and Road Watch volunteers identified collision hotspots along the highway and the months with the highest wildlife-vehicle collisions. This dataset was one of several that informed the 2010 report, Highway 3: Transportation Mitigation for Wildlife and Connectivity in the Crown of the Continent Ecosystem detailing safety options for direct mitigation of highway impacts to local populations of large terrestrial wildlife.
Using the 2010 Highway 3 data, Miistakis, Western Transportation Institute, and the Yellowstone to Yukon Conservation Initiative worked with local partners and the Road Watch participants to share the results with Alberta Transportation and advocate for solutions that would reduce wildlife-vehicle collisions in the identified hot spots. Lee notes, "While there are many partners on this project, the citizen scientists of Crowsnest Pass have helped Alberta Government understand how important driver and wildlife safety is for residents."
Video courtesy of the Yellowstone to Yukon Conservation Initiative.
In 2016, Alberta Transportation installed its first wildlife mitigation measure on Highway 3 with roughly 1.5 kilometers of wildlife fencing completed near Crowsnest and Emerald lakes. The fence should keep wildlife, primarily bighorn sheep but other large mammals as well, off the highway and direct them towards an existing underpass. "Improving traffic safety while protecting wildlife along our highways is a win-win and shows the value of working with our partners on such critical projects," says Brian Mason, Alberta's Minister of Transportation and Infrastructure.
In advance of the fencing's installation, citizens in Crowsnest Pass completed two years of pre-construction monitoring. "To accurately be able to determine whether mitigation is effective, it's crucial to have the before and after data comparison," says Tony Clevenger, a research scientist with Western Transportation Institute.  Utilizing the Collision Count's volunteer transect walkers and workers from Volker Stevins, the highway maintenance contractor for southern Alberta, Miistakis completed two years of monitoring mitigation sites and plans to conduct monitoring for an additional year. Miistakis recently issued a report showing that the wildlife-friendly projects were successfully reducing collisions.
Lee says that while citizen science alone won't get the job done on Highway 3, it has been a valuable part of identifying and advocating for safe passage solutions. "Roadwatch in the Pass participants speak with authority because they collected the data themselves. Also, they have shared their knowledge with neighbors, which has activated even more residents."  The Roadwatch volunteer program is still going strong with twenty people contributing to information gathered for Miistakis' most recent Collision Count Report.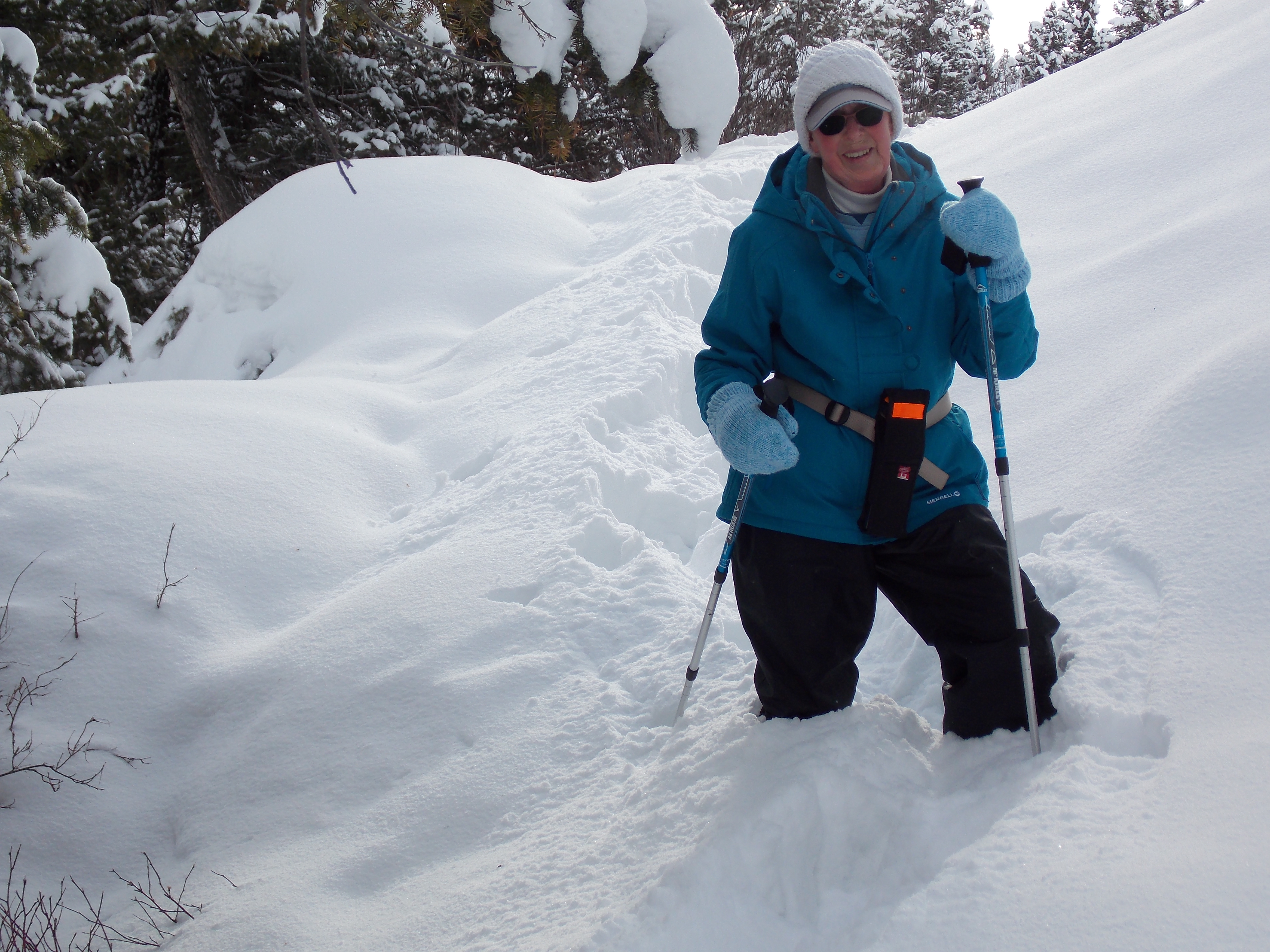 Collision Count volunteer, Dorothy Smith, completing her transect in the winter time. Photo courtesy of Gerry Smith.
Just west of Crowsnest pass, Miistakis is partnering with Wildsight, a leader in landscape conservation, to implement a new citizen science program in British Columbia. Road Watch BC, uses a new technology platform developed in partnership with Wildsight, Western Transportation Institute, Yellowstone to Yukon Conservation Initiative and Miistakis Institute that residents can operate from their smartphones. "The smartphone app allows bus riders and those in carpools to log data in real time," says Lee. "The application is easy to use and captures geospatial data. Like in Alberta, we are working to build a robust data set while supporting a community of people to learn about and contribute to the place they call home."
Wilburforce Foundation is proud to support Miistakis and its Highway 3 Partners' effort to engage the public to provide reliable scientific data to inform highway improvement projects benefitting human safety and connecting wildlife populations across the region.  Miistakis Institute astutely recognized that the key for achieving results is building a constituency and working collaboratively with residents, scientists, private industry, and government officials.