For Conservation Northwest's Joe Scott, it's a tough but rewarding job.  Scott says, "I get to work on behalf of one of the world's most charismatic animals in one of the most compelling landscapes, with some of the most accomplished scientists, advocates, and agency people out there – from two countries; and with the people who have lived here for thousands of years."
For Johnny Mikes, Coast to Cascades' Field Coordinator and former wilderness river guide, working with communities to advance grizzly recovery offers a chance to be close to home in a landscape where he grew up, for an animal he loves.  "Having grown up guiding in wild places like the Tatshenshini-Alsek and Muskwa-Kechika I know that real wilderness here in the west includes grizzly bears", says Mikes.  "A landscape without grizzly bears is an impoverished landscape so it's important that we help to secure the future of these at-risk bears."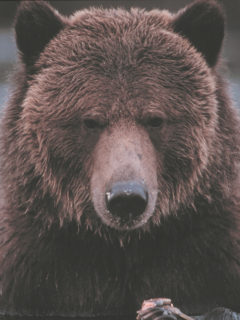 Big Fella. Photo: Jeremy Williams
The goal is the same for both sides of the US/Canada border –to return healthy grizzly bear populations to their ancestral homelands where they are in real danger of disappearing.
The needs and social dynamics in the two countries are very different. In BC there are more bears but the habitat threats are many and ongoing, with roads being the biggest concern. In Washington, the habitat is secure and dedicated to grizzly recovery, but there are very few bears. The reason North Cascades grizzlies haven't recovered, despite an abundance of excellent habitat in the ecoregion: there aren't enough grizzlies near the US border to reclaim their home in Washington.
Polls and comments on early stages of the federal agency's recovery process indicate the majority of people in Washington support and are excited about grizzly bear recovery. However, progress is challenged by people's misunderstanding of bears and uncertainty about the government's process. But Joe Scott is undeterred.
"We need to reestablish grizzly bear reproduction in Washington's North Cascades – the southern extent of current grizzly range. If we can start to build bear numbers in the south while connecting habitats and bear populations from the north, we've succeeded" said Scott. "That opportunity is upon us  and we need to act now to secure both the future of the bears and of Washington's wildest place."
For more information on North Cascades Grizzly Bear Recovery visit Conservation Northwest's website.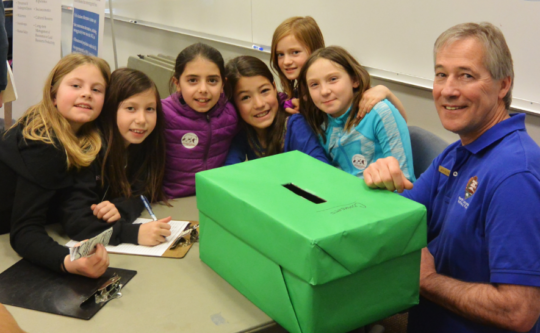 Kids in Bellingham submitting their comments of support for Grizzlies. Photo: Chase Gunnel
For a deeper dive in the issue, watch this wonderful short film, "Time for the Grizzly?" by renowned ecologist and award-winning conservationist Chris Morgan about communities in the West that now co-exist with Grizzly Bears, and what this means for communities in Cascadia.
2019 update:  After more than a year of inactivity, the National Park Service and the U.S. Fish and Wildlife Service restarted  the Draft Environmental Impact Statement (EIS) for grizzly bear restoration in July 2019, and  reopened the public comment period through October 24. All comments submitted in 2017 are still being considered. We hope and trust that the "hard look" required by the National Environmental Policy Act about the need for and impacts of grizzly recovery in the North Cascades will continue without interruption. Feel free to follow this issue through our partners at Conservation Northwest here.