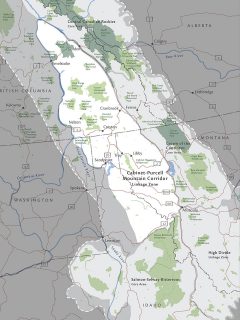 Cabinet-Purcell Mountain Corridor map
2016 marks the 10th anniversary of the Cabinet-Purcell Mountain Partnership, a conservation collaborative working to ensure the long-term viability of the Cabinet-Purcell region—one of only two grizzly bear travel corridors between Canada and the United States.
What is all the buzz about? "Linking up good habitat for grizzly bears," says Jodi Hilty, President and Chief Scientist of the Yellowstone to Yukon Conservation Initiative. "Well, I should say that's why the partners all started talking ten years ago. Today, it's about much more than that."
Cabinet-Purcell Mountain Corridor
The trans-border Cabinet-Purcell region stretches from Golden, British Columbia to Missoula, Montana. It encompasses the Purcell, Cabinet, Selkirk and Bitterroot mountain ranges and is a critical linkage zone between larger, protected areas such as the Canadian Mountain Parks to the north, Crown of the Continent Ecosystem to the east, and the Salmon-Selway Ecosystem to the south. In other words, this little-known region, which makes up twenty percent of the greater Yellowstone to Yukon region, has a big job to do to keep the larger ecoregion knitted together.
Creating a Plan
"In the late 1990s wildlife biologists recognized that if grizzly bears were going to thrive in this region, people would have to focus on protecting core habitat, ensuring connectivity, and providing residents with the tools and resources to coexist successfully with them and other wildlife," says Hilty. More than sixty partners including community-based groups, state and provincial organizations, agencies, funders, and researchers have played roles in creating, informing, and implementing a plan to get the job done.
Making Strides
"Ten years out, we can point to progress in three areas—core habitat protection, increased connectivity, and more coexistence tools in the hands of those who need them," says Kim Trotter, Yellowstone to Yukon Conservation Initiative's U.S. Director. In response to a suite of actions, the grizzly bear population has increased from an estimated 25 to 30 bears in the U.S. Cabinet-Yaak population in the 1990s to roughly fifty today. Changes likely contributing to this population growth include protecting wildlife corridors, the Forest Service decommissioning or closing more than 600 miles of old logging roads, and securing nearly 200 bear attractants such as chicken coops and community landfills. These steps make it safer for bears and humans to live in this landscape together.